Why do we have Values?
At Chilled Pubs our Chilled Values are at the heart of everything that we do.
They form the basis of all our behaviour
They act a compass to guide us
They help us achieve our business goals.
What are Our Chilled Values?
1. WOW
Our products, service and environment must be WOW!
We need to be GUEST OBSESSED.
We look for opportunities to WOW our guests and exceed their expectations.
We try to do everything …with a difference.


2. WARM & FRIENDLY
We genuinely care about our guests, our colleagues, and our suppliers.
We treat everyone who comes into our pub as if they were guests in our own home and always with a smile.
We want our guests to become regulars and our regulars to become friends.
We are REALLY warm, friendly and empathetic.
3. DO THE RIGHT THING
We are honest, open, and always do the right thing.
We always do what we say we are going to do.
We question any actions that are inconsistent with our Values
We always keep confidential information confidential
4. TOGETHER
We all work as a team
We create a culture of warmth and belonging where everyone is welcome.
We treat our colleagues and guests as if they were family
We inspire positivity and make time to help colleagues.
If you want to join our team and believe that you can work within our Values, please get in touch.


How do we remember our Chilled Values?
Wow, Warm and friendly, Do the right thing & Together
OR..... you can remember them by.....
What Would Dennis Think?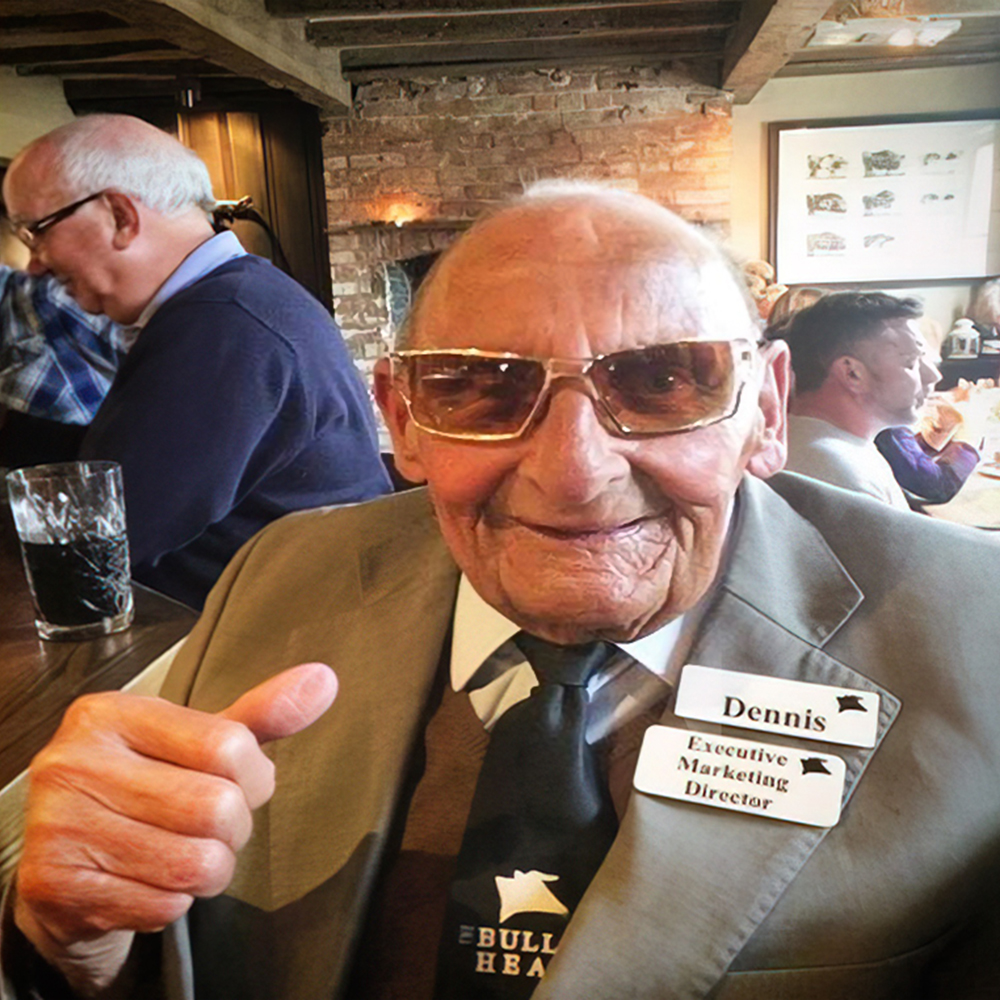 Who is Dennis?
Dennis Faulkner
Dennis first started coming into The Bulls Head at Repton at the ripe old age of 79 and had a huge and lasting impact on our pub and our business.
He was a guest, who became a regular and then became a very dear friend.
He was always immaculately dressed in a smart suit, freshly pressed shirt and tie. He came and sat at the bar with his warm and friendly smile and wonderful laugh and quickly endeared himself to all of the team. He would arrive at 4.15pm every afternoon in his little silver Micra and had a pint of Pedigree watered down with lemonade.
But he wasn't just coming for the beer. Dennis was coming to our pub for the companionship and the chat.
 He lived on his own and had no family. He soon became a firm favourite with the team and he had such warmth about him that guests and team were drawn to him. Everyone wanted to say 'hello' and have a chat with Dennis. He had a natural ability to bring people together.
He naturally embodied all of our Chilled Values and genuinely lived them every day. He is our role model at Chilled Pubs.
Dennis was always immaculately dressed, had a real eye for detail. From his vantage point at the bar he kept the team on their toes to ensure that we had WOW standards in the pub insisting on shiny beer pumps, a clean bar, sparkling glasses, the fire always lit and he ensured that everyone got served in the correct order. Dennis encouraged everyone to think of new ways to WOW our guests as he really understood great service.
He was the epitome of 'warm and friendly'. We welcomed everyone into our pub as if it were his home and always made bee line to speak to any guests who might be on their own.
He was a very principled man with great morals, and sound judgement. He would always know how and when to 'do the right thing.' He treated everyone with respect and questioned any behaviour which was inconsistent with our values.
He had a natural ability to bring people 'together' and did so on a daily basis. Our guests travelled for miles just to chat to Dennis. His Birthday parties at the pub were legendary and brought guests from far and wide. Posts about Dennis on Facebook immediately attracted thousands of likes.
When he sadly passed away, aged 91 over 100 people attended his funeral, and they were mostly guests from our pubs and members of our team (both past and present.). So Dennis continued to bring people together right until the end of his life.
We keep his memory alive in our values.
The way to remember them is :
What Would Dennis Think?